"Animation can explain whatever the mind of man can conceive. This facility makes it the most versatile and explicit means of communication yet devised for quick mass appreciation."  

-Walt Disney
Whenever  I think about the History of 3D Graphics the most constant highlight that always goes through my mind is Graphics of Games that have evolved over the past decades. I've been playing games ever since I was a young child, it has become one of my passions in life. Mostly when I play games nowadays I play to relax and have fun, it has also turned as my stress reliever. That is why I choose to talk about Gaming Graphics as my Highlight of History in 3D Graphics.
 A History of Art in Games
Source: http://www.hexapolis.com/2015/07/28/12-video-game-franchises-then-and-now-the-graphics-evolution/
– Whenever you got into gaming, I'm sure you were impressed by it at the time. I know in fact that I was. It can be tough to remember, but over the last 3 Decades that have passed, we've moved from simple shapes floating around black screens pretending to be spaceship, all the through simple sprites, full-screen cartoons, full-motion video and early experiments in 3D, and into blisteringly detailed virtual worlds that we can explore at will.
I still remember how I was so amazed by the 3D Graphics of games back then especially when the Playstation 1 was released, I remember getting one right away, and is this game called Tekken, and back then I was so amazed how realistic the characters and the game looked but then again:
Tekken released on December 9, 1994: http://tekken.wikia.com/wiki/File:Tekken_1_Fiji.png
Tekken 3, released on March 20th, 1997: http://oldisgoldgames.com/tekken-3-free-download/
Tekken 5,  released on November 15, 2004: http://www.ign.com/articles/2007/03/19/tekken-5-dark-resurrection-uk-review
-From here, you will notice how the textures, shading and 3D Animation of the game evolves.
Tekken 7, released on March 18, 2015: http://www.dualshockers.com/2016/06/26/heres-whats-new-in-tekken-7-on-consoles/
– To think that back then in Tekken 1 it already looked amazing to me when I was just a child, but now, the detail and 3D Graphics of the game itself is just pure Bliss. It is mesmerizing to see all the detail on every character and the environment as well. It really is amazing to see and witness how this game has evolved throughout the years.
Below is a video from a YouTuber named Data Radar, and it was published on November 24, 2016. The title of the video is "Evolution of Video Game Graphics 1962-2017".
Sources:
Richard Cobbett (June 17, 2009) The Evolution of Gaming Graphics: http://www.techradar.com/news/gaming/the-evolution-of-gaming-graphics-609050
Data Radar (November 24, 2016) Evolution of Video Game Graphics 1962- 2017 https://www.youtube.com/watch?v=3H6hnFV-nDU
An Artist who has inspired me the most
Source: http://68.media.tumblr.com/0bdae9aab522d120ec295224f9d330c1/tumblr_ojbdq78k5k1u496xso2_1280.jpg
– His name is Hayao Mizayaki, I still remember the first film I saw that he made, It was Spirited Away. Such a Beautiful movie, and back then I didn't even know who Mizayaki was when I first saw the film. I have blown away with the movie, especially the story and Animation. He has inspired me in so many ways because of his talents, and skill. The Films he has made, to be honest, they were all amazing, some of his best works are "My Neighbour Totoro, The Castle In the Sky, Howl's Moving Castle, Ponyo, Princess Mononoke, The Secret World of Arrietty, and of course, Spirited Away". He has this "Unique Way" of creating stories and characters that when you watch an animation film, you'd probably guess right away if it was his or not.
Here is a Link to his Blog in Tumblr page:                                          http://hayao-miyazaki.tumblr.com/
A Beautiful Mind indeed. Hayao Miyazaki is a Japanese Film director, Producer, Screenwriter, Animator, Author and, Manga Artist. Through a career that has spanned over five decades, Miyazaki has attained international acclaim as a masterful storyteller and as a maker of anime feature films and, along with Isao Takahata, co-founded Studio Ghibli, a film and animation studio Director. Here are Visual Examples of his works:
Spirited Away
Source: https://www.pinterest.com/Lolitannais/el-viaje-de-chihiro/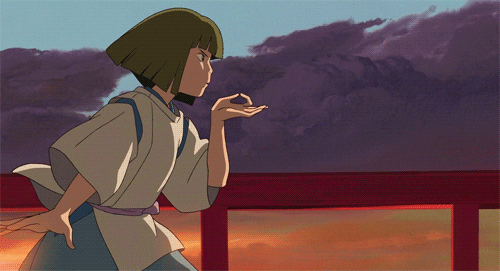 Source: http://giphy.com/search/spirited-away-gif
One of the best Films he has ever made, Spirited Away was released on July 20, 2001, and became the most successful film in Japanese history, grossing over $289 million worldwide and receiving widespread critical acclaim. The film even overtook Titanic (at that time it was the top-grossing film worldwide) in the Japanese box office to become the highest-grossing film in Japanese history with a 30.4 billion total.
Miyazaki wrote the script after he decided the film would be based on the 10-year-old daughter of his friend, associate producer Seiji Okuda, who came to visit his house each summer. Spirited away tell the story of a 10-year-old girl who, while moving to a new neighborhood, enters the spirited world. After her parents are transformed into a pig by the witch Yubaba, Chihiro takes a job working in Yubaba's bathhouse to find a way to free herself and her parents and return to the human world.
Source: https://en.wikipedia.org/wiki/Spirited_Away
Ponyo
Source: http://www.pathwayslp.org/ponyo-movie-download-english/
Source: https://wifflegif.com/tags/1717-ponyo-gifs?page=4
– titled in English as Ponyo on the Cliff by the Seas, is a 2008 Japanese animated fantasy comedy film written and directed by Hayao Miyazaki and produce by Studio Ghibli, It is the eight film Miyazaki directed for Ghibli and his tenth overall. The plot centers on a goldfish named Ponyo who befriends a 5-year-old human boy named Sosuke and wants to become a human girl.
Source: https://en.wikipedia.org/wiki/Ponyo
My Neighbour Totoro
Source: http://www.imgbase.info/images/safe-wallpapers/anime/my_neighbor_totoro/35725_my_neighbor_totoro.jpg
– My Neighbor Totoro is a 1988 Japanese animated fantasy film, written and directed by Hayao Mizayaki. The film tells the story of two you daughters ( Satsuki and Mei) of a professor and their interaction. The film won the Animage Anime Grand Prix prize and the Mainichi Film Award and Kinema Junpo Award,
Source: https://en.wikipedia.org/wiki/My_Neighbor_Totoro